SCIENTIFIC UNDERSTANDINGS OF OUR COMMON IMMORTALITY AND DIVINITY
Ancient history tells us. Indigenous cultures tell us, enlightened masters and spiritual gurus tell us, modern philosophers and now modern science all tell us the same thing - "We Are all One. We Are All That Is. There is no separation between any 'part' of the universe, the cosmos, or the divine with you or me." As such, You Are Infinite, You Are Eternal, You Are God. And more importantly,
You Are Me.


This website is a collection of links to the various voices that I believe have been saying this same thing throughout human history. The blog is my interpretation of these voices, and what has been called ' The New Story of Cosmology.' I am no expert, and I might be wrong, but these ideas work for me. If you have ever questioned the traditional story that modern society has given you I hope this 'New Story' might work for you too.
To purchase the newly released book, visit Amazon today.


Namaste
Tonight I am sleeping on a footpath outside the Lady Cilento Children's Hospital in Brisbane, alongside 100 others. We are here, along with the hundreds who have been camped out for the past eight days, because of a little girl inside. A one year old baby, known only as Asha, was badly burned by boiling water in the tent which is her indefinite home in the refugee detention centre on the tiny isolated Pacific island of Nauru. For years, the Australian government has been sending asylum seekers attempting to enter Australia by boat to detention centres on Nauru, and on the other small Pacific island of Manus Island. And for years, despite media blackouts and threats of punishment for anyone speaking out, numerous first-hand reports have described inadequate and unsafe living conditions, severe depression, self-harm and attempted suicides within these centres.

---

So this one is a little less sciencey and a lot more esoteric - follows the same logic though:

I have always wanted to change the world, and have always been inspired by Gandhi's famous instruction to "be the change you wish to see in the world." Originally, I was inspired by the idea that my actions for change could inspire others to do the same, and then later (in realising that doesn't always happen), by the idea that even if no one else changes anything, my actions are making a difference – no matter how small – and this is enough to change 'part' of the world

by Mark Ellison

Mark is a husband, father of four, teacher of high school Science, Study of Religion and Health & Physical Education, and facilitator of various student retreats and social justice and advocacy programs. He has a Masters of Educational Leadership, a Bachelor of Applied Science, a Certificate III in Systematic Theology, and a passion for learning more about ultimate reality. The thoughts within this blog are my most recent learnings from this journey.

Archives

January 2018
April 2016
March 2016
February 2016
January 2016
November 2015


Categories

RSS Feed
Powered by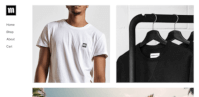 Create your own unique website with customizable templates.