SCIENTIFIC UNDERSTANDINGS OF OUR COMMON IMMORTALITY AND DIVINITY
Ancient history tells us. Indigenous cultures tell us, enlightened masters and spiritual gurus tell us, modern philosophers and now modern science all tell us the same thing - "We Are all One. We Are All That Is. There is no separation between any 'part' of the universe, the cosmos, or the divine with you or me." As such, You Are Infinite, You Are Eternal, You Are God. And more importantly,
You Are Me.


This website is a collection of links to the various voices that I believe have been saying this same thing throughout human history. The blog is my interpretation of these voices, and what has been called ' The New Story of Cosmology.' I am no expert, and I might be wrong, but these ideas work for me. If you have ever questioned the traditional story that modern society has given you I hope this 'New Story' might work for you too.
To purchase the newly released book, visit Amazon today.


Namaste
So this one is a little less sciencey and a lot more esoteric - follows the same logic though:

I have always wanted to change the world, and have always been inspired by Gandhi's famous instruction to "be the change you wish to see in the world." Originally, I was inspired by the idea that my actions for change could inspire others to do the same, and then later (in realising that doesn't always happen), by the idea that even if no one else changes anything, my actions are making a difference – no matter how small – and this is enough to change 'part' of the world

But just recently, I have come to realise that I am the change that happens in the world, because I am the world! I do not change a part of the world, because there are no parts! I used to think I could change the world by encouraging others to change, and I would try to convince others of how they should think / act / feel etc. Then when that didn't really work, I thought that if I just modelled the behaviours I wanted to see in others – if I 'led by example' – others might be inspired to follow that example.

But as Eckhart Tolle says, what you fight you strengthen, and what you resist persists. The problem was, that in physically trying to coerce others to change, or even in mentally expecting people to change, I was in fact creating opposition. I spent many years expecting such opposition – at home, at work, in the wider community, in politics.

Then I was reflecting just the other day about how little opposition I have been expecting or experiencing lately. Whereas I once expected my inbox to be full of problems, I now look forward to every new email and its opportunities. Where I once feared resistance and a lack of cooperation from colleagues and family members, I now willingly go with the flow – understanding where others are at, expecting nothing, and appreciating everything. And lo and behold – my world is changing. The people around me are changing. The world is a happier, friendlier, more peaceful place. I experience the cooperation I have always wanted – not because people have listened to me, not because they have copied me, but because they are me.

I am now taking seriously the ancient spiritual teaching that says that everything takes place 'in here' – that everyone and everything 'else' out there is literally just a projection of my own inner world – and that attending to my own 'inner work' is all I have to do. Of course, attending to in here often means taking action 'out there,' but that action is now infused (more often anyway) with a greater sense of peace, non-judgement, compassion and acceptance. The world is now a happier, friendlier, and more peaceful place, because I am happier, friendlier, and more peaceful.
​
In seeing the many sufferings in the world, and in my own immediate reality, I realise now that I still have a lot of inner work to do – but this is now a cause for hope, for celebration, because I now realise the profound truth in Marianne Williamson's statement that "you are powerful beyond measure." In realising your true identity as the cosmos – as infinity – as God – you realise that you literally are the change I wish to see in the world – that truly anything is possible. So what kind of world do you want to see?



by Mark Ellison

Mark is a husband, father of four, teacher of high school Science, Study of Religion and Health & Physical Education, and facilitator of various student retreats and social justice and advocacy programs. He has a Masters of Educational Leadership, a Bachelor of Applied Science, a Certificate III in Systematic Theology, and a passion for learning more about ultimate reality. The thoughts within this blog are my most recent learnings from this journey.

Archives

January 2018
April 2016
March 2016
February 2016
January 2016
November 2015


Categories

RSS Feed
Powered by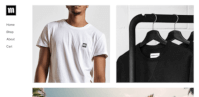 Create your own unique website with customizable templates.